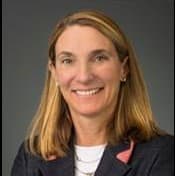 Elizabeth B. Concordia serves as president and chief executive officer of UCHealth, a nationally recognized, nonprofit health care system with operating revenue of $5 billion and a workforce of more than 26,000 people. Ms. Concordia joined UCHealth in September 2014 and is responsible for the strategic direction, clinical operations and financial success of the system.
UCHealth includes 12 Colorado hospitals with about 2,000 inpatient beds and more than 150 clinics in Colorado, southern Wyoming and western Nebraska.
Under Ms. Concordia's leadership, UCHealth is focused on strategic partnerships, expansion of the system's footprint in the region, developing new models of care, improving patient access and experience, and supporting the academic mission. UCHealth is fostering new innovations and technologies to support the care of individual patients and to improve the overall health of our population.
Before joining UCHealth, Ms. Concordia served as executive vice president for UPMC and president of its Hospital and Community Services Division. In previous positions, she was the executive vice president and chief operating officer for Johns Hopkins Bayview Medical Center in Baltimore, Maryland, as well as an associate director at the Montefiore Medical Center's Jack D. Weiler Hospital of the Albert Einstein College of Medicine, in the Bronx, New York, and a manager and senior consultant for Ernst & Young in Washington, DC.
Ms. Concordia earned a Bachelor of Arts in Economics and German from Duke University and a Master of Administrative Science Management from Johns Hopkins University. She is a member of the Women's Forum of Colorado and the Colorado Forum. Ms. Concordia serves on the boards of Premera Blue Cross and AdvanceEDU, and she was named a 2018 Outstanding Woman in Business by the Denver Business Journal.