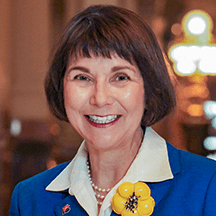 Theresa Szczurek, an accomplished C-level executive and corporate board director, is a management consultant helping firms thrive. She now seeks the right C-level position and/or corporate board seats.

Szczurek is the former State of Colorado's Chief Information Officer. After 21 months helping Governor Jared Polis enhance the IT culture, further an innovative digital transformation, build customer delight, ensure a secure Colorado, keep all systems operating, and inspire over 1000 statewide staff, Szczurek moved on.

Szczurek is a serial technology entrepreneur. Szczurek leaves an impressive record of co-founding and leading Radish Systems (Radish 2.0) since 2009 when smart devices and mobile communications were just becoming contenders for conducting business in the USA and worldwide. Radish quickly became the pioneer "voice with visuals" technology that has since become the status quo in mobile communications.

As CEO of Technology and Management Solutions, LLC she helps clients grow exponentially through information technology oversight, strategic planning, customer development, board governance, and organization/leadership development. She wrote the Amazon-bestseller, Pursuit of Passionate Purpose, which provides her proven, step-by-step formula for success.

Szczurek began her career with eight years at AT&T Bell Laboratories and AT&T International, first designing and greatly improving performance of business information systems and then producing large-scale revenue growth by managing their delivery into world markets. She holds an MS in Operations Research from Stanford University and an MBA and Ph.D. in Business Administration (with a focus in Marketing and Organization Development) from the University of Colorado.